The Jolley Foundation's Beginning
Robert Albert Jolley, Sr. (Bob to his friends and colleagues, Albert to his family) grew up on a farm in rural South Georgia. Albert, the oldest of five children and born in 1890, didn't have a taste for farming. He left home at age 16 to find work and, hopefully, send money back home to his family.
From the very beginning of his career, Albert put in the time and effort to earn a reputation as an honest and diligent worker. Word about Albert's exceptional work ethic spread quickly. Mr. Lowery, a local businessman, was impressed by the young man's dedication and entrepreneurial enthusiasm and asked Albert to run his Chero Cola (eventually Royal Crown Cola) bottling business in Carrollton, Georgia. He gladly accepted, and in just a few years, backed by investors who were impressed with his business acumen, Albert was able to buy the company.
Shortly thereafter, Albert met and married Rucker Tweedy, then a schoolteacher. Albert purchased a bottling facility in Anderson, South Carolina; and he and Rucker moved their family and business from Georgia to the Upstate in 1919.
The Importance of a Helping Hand
All the while, even as they struggled to keep the business afloat during the Great Depression and support their three children—Bob, Mamie, and Jimmy—the couple stayed true to their roots and sent whatever money they could back to family in Georgia.
Their hardscrabble childhoods in rural South Georgia taught Albert and Rucker firsthand the devastating toll that illness, untimely death, alcoholism, melancholia, drought, and the boll weevil could have on families. The couple knew one thing to be true: help from a friend at the right moment could change everything.
Thus, in 1947, Albert and Rucker established an assistance fund for their employees to act as a safety net during times of crisis.
And with that, the Jolley Foundation was born.
The Next Generation: Building a Legacy of Giving
In the 1970s, Albert and Rucker's three children took the reins of the foundation. Bob, Mamie, and Jimmy all participated in the community as volunteers and civic leaders and were generous to the foundation and in their personal philanthropy. They served on nonprofit boards in the areas of mental health, education, human services, and arts and culture.
Over the years, the three siblings began the work of expanding upon their parents' vision and values, including empathy and the belief that everyone deserves a life of dignity; gratitude for what they received and a responsibility to steward those resources in the service of the Greenville community; and a quiet humility about their philanthropy.
Creating Opportunities Through Access to Education
Perhaps the siblings' greatest shared passion was education. Having grown up in the segregated Jim Crow South, they witnessed its inequities and brutality. They believed in the power of education to help alleviate poverty, discrimination, and injustice.
They supported scholarships for underrepresented, low-income youth throughout South Carolina's higher education institutions and Mamie gave the founding endowment to Bridges to a Brighter Future at Furman University, a nationally recognized comprehensive college access and success program for high school students whose potential outdistances their circumstances.
Staying True to Our Roots
In 2014, with the encouragement of Jimmy Jolley, the surviving Jolley sibling, the Jolley Foundation board took on the work of succession planning. James McDuffie Bruce (Duff) and Jolley Bruce Christman assumed leadership, joined by Duff's son, Mac Bruce and Jolley's son, Andrew Christman.
Although the Jolley Foundation has grown over the years, one thing has remained true: we have remained steadfastly dedicated to helping others and clung tightly to the values instilled in us by our founders.
James McDuffie Bruce III
Chair
Greenville, SC
Read Bio
Duff Bruce is a Greenville native who attended Augusta Circle Elementary School, Christ Church Episcopal School, The Baylor School, and Davidson College. Upon graduation, he worked at Davidson College in a variety of staff positions. Returning to Greenville, he began working at the Open Book, a local bookstore, where he met his wife, Margaret, and served as bookseller, buyer, and eventually owner until 2011. He joined the Jolley Foundation board of trustees after the death of his uncle, Bob Jolley, in 2002.
Jolley Bruce Christman
Secretary
Philadelphia, PA
Read Bio
Jolley Bruce Christman, a Greenville native, lives in Philadelphia. There she has worked as a high school teacher, teacher educator, and school district administrator. In 1992, with her good friend Eva Gold, Jolley founded Research for Action, a non-profit organization that, through its research, seeks to improve the life chances of underserved youth by strengthening public schools and enriching the civic dialogue about public education. In her retirement, she has served on the boards of higher education institutions and community arts organizations and campaigned for fair funding for Philadelphia public schools. Jolley holds a B.A. from Randolph College and a Ph.D. from the University of Pennsylvania Graduate School of Education.
Andrew Christman
Philadelphia, PA
Read Bio
Andrew Christman lives with his wife and two sons in Philadelphia, PA. Andrew is an educator and visual artist. Andrew's pedagogical approach and art-making practice each emphasize critical thinking, interdisciplinary collaboration, community building. Andrew currently works as a teaching artist for the Philadelphia Museum of Art and is a co-founder of Way of Words Projects, which brings interactive literacy and art experiences to diverse audiences throughout Philadelphia. He was a founding teacher at el Centro de Estudiantes, an alternative, accelerated high school for overaged, under-credited students seeking a high school diploma. He has been an educator at the Brooklyn Museum, the New York City Museum School and the Rotunda Gallery. Andrew received his BFA at Pratt Institute, Brooklyn and his MA in Eastern Art History at Sotheby's Institute of Art, Manchester University, UK.
James McDuffie Bruce IV
Austin, TX
Read Bio
Mac lives in Austin, Texas where he is pursuing a Masters of Science in Community and Regional Planning at the University of Texas at Austin. Previously, he worked in Memphis, Tennessee at the Hyde Family Foundations as a Program Associate. He graduated from Rhodes College in Memphis with a degree in English literature. Mac grew up in Greenville and is a proud graduate of Greenville Senior High School. He has been a member of the Jolley Foundation Board since 2015.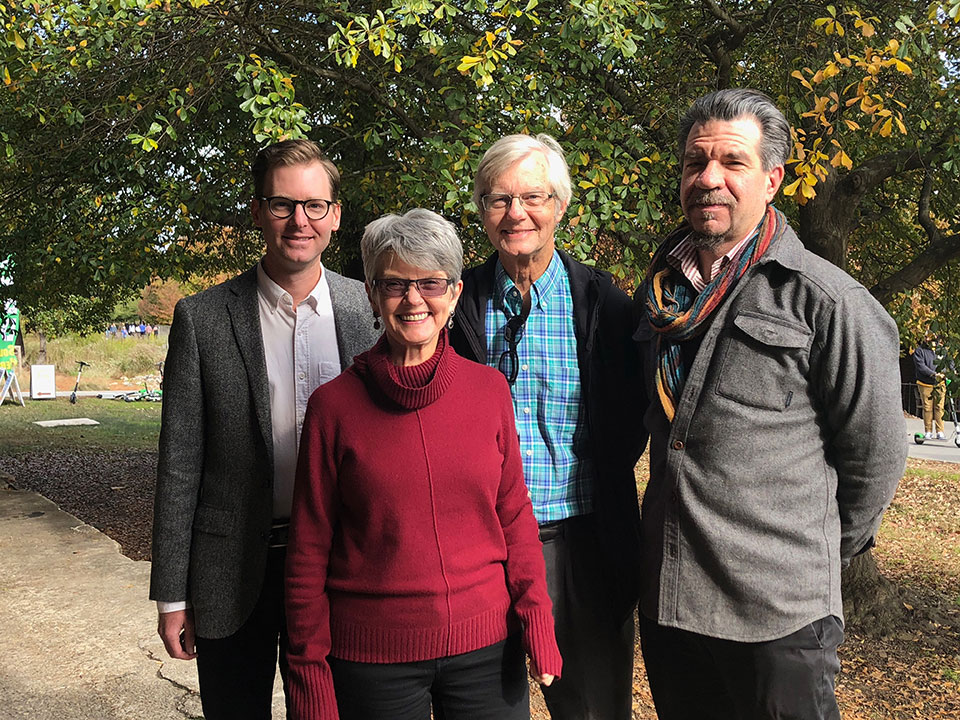 Meliah Bowers Jefferson
Greenville, SC
Read Bio
Meliah is a Member of Wyche, P.A. with over 17 years of professional experience focused in the areas of litigation and mediation. She also engages in pro bono legal service initiatives as an advocate for equal access to justice, including privacy protections for victims of sexual and domestic violence and the equitable treatment of people with disabilities. She is a magna cum laude graduate of the University of South Carolina Darla Moore School of Business, and earned her law degree from the University of South Carolina School of Law.